Video instructions for fitting the pull-out shelf lock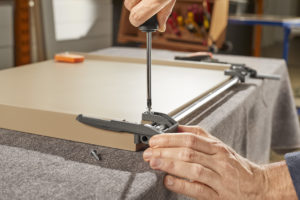 The pull-out shelf lock from Blum can be used in a variety of living spaces, such as the living room, utility room or office. The locking function of the lock-open stop ensures pull-out shelves remain secure when extended. In this video we'll show you how to fit the pull-out shelf lock in a few simple steps.
FILM
It only takes a few steps to upgrade your pull-out shelf with the pull-out shelf lock.
Step 1: Position the locking unit using the positioning guide on one side first, drill the hole and screw in place.
Step 2: Cut the synchronisation shaft to size. See the installation instructions to determine the correct size.
Step 3: Guide the synchronisation shaft into the locking unit that has not yet been fixed in place. Then slide the other end of the shaft into the locking unit fixed to the pull-out shelf.
Step 4: Fit the second locking unit as described in step 1.
Step 5: Fit the latching element to the runner system on both sides inside the piece of furniture using the positioning guide.
Step 6: Insert the pull-out shelf equipped with the lock-open stop on the runner system.
As soon as you pull the pull-out shelf all the way out, the locking mechanism engages securely on both sides. Owing to the synchronisation, the lock-open stop can easily be released with one hand by lifting just one lever.
Click here to download the installation instructions for the pull-out shelf lock.