MERIVOBOX
Let´s create – The box platform for your ideas.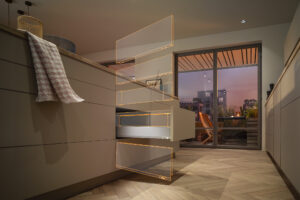 Our completely new MERIVOBOX box system gives you simple manufacturing AND great variety.
This true platform makes it possible, with drawers and pull-outs to suit every need – extremely easy to manufacture and install. Experience maximum functionality combined with stunning design.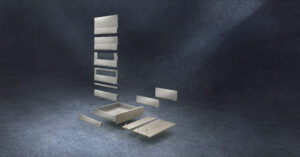 Drawer sides form the frame of the drawer. The integrated platform interface makes it easy to add a variety of accessories: MERIVOBOX modular with gallery, with gallery and design element, with BOXCOVER or a
closed metal side with BOXCAP. The range is rounded off by monolithic high fronted pull-out option MERIVOBOX pure – for a high-quality drawer design with closed sides, making it even easier for kitchen manufacturers to create differentiation between different product lines.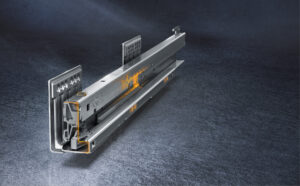 The innovative L-shape of the brand-new runner system ensures high stability and load bearing capacity. In addition to the synchronised feather-light glide, the high level of front stability opens up new possibilities in kitchen design. Kitchen users experience maximum functionality combined with stunning design. The characteristic look with clear lines and a unique design also gives MERIVOBOX a distinctive appearance.
You can find more detailed information about MERIVOBOX on our website.
Availability
We are now working hard to ensure that MERIVOBOX will soon be available in your market.
MERIVOBOX – an innovation by Blum