SPACE STEP: All you need to know about planning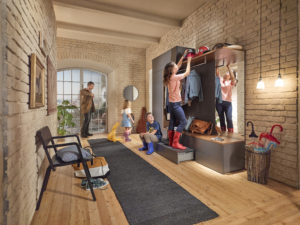 Create functional furniture right up to the ceiling with SPACE STEP.
The plinth solution is perfect for furniture throughout the home. It creates additional storage space behind the toe kick of cabinets, allows small users to reach worktops and provides easy access to tall units and wall cabinets.
Here are a few tips on how to plan and manufacture SPACE STEP.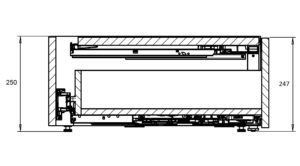 The plinth step can be no higher than 247 mm. It will therefore fit into a 250 mm high cabinet plinth.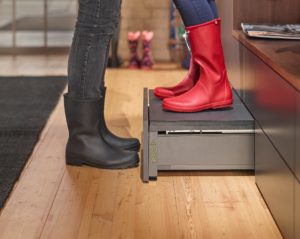 SPACE STEP can take a maximum load of 150 kg. Please make sure you use sturdy material for the step. We recommend using a 3 layer panel which has a thickness of least 21 mm.
In addition, cover the step surface with anti-slip material.
SPACE STEP can be combined with all Blum motion technologies. The plinth drawer can be implemented with many of Blum's box and runner systems. You will find information on how to plan, assemble and install the underlying plinth drawer in the brochures pertaining to the relevant Blum product: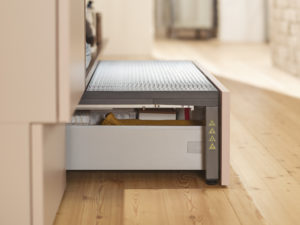 You can also implement SPACE STEP without a plinth drawer. To do so you have to attach the front to the plinth step. However, you can then only use soft-close BLUMOTION.
It might be a good idea to watch the following assembly video before you install SPACE STEP for the first time:
The easiest way to plan SPACE STEP is to use our Product Configurator in E-SERVICES. After you've configured the plinth solution, the Configurator will give you a complete parts list, the cutting dimensions of all wooden parts, drilling positions and all CAD data – as an individual product or 3D configuration.
Read our next SPACE STEP blog for tips and hints on assembly and adjustment.
SPACE STEP: All you need to know about planning