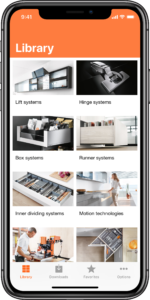 What's new with the latest app update?
We are always striving to optimize our EASY ASSEMBLY app for our users. With the latest update there are many changes that help to make our app more efficient and intuitive. See the most important changes here:
1.) Reduced memory: instead of 116 MB (Version 2.2) you only need 9 MB (Version 3.0). 
2.) Interactive installation instructions & short videos
We replaced the Augmented-Reality (AR) technology with a compact HTML technologie. Now you find new interactive installation instructions in our app that provide you with individual support in sophisticated assembly situations of selected products. Furthermore, there are new short-videos for the assembly of our products. Both lead to the significant reduction of memory usage.