SERVO-DRIVE uno for bottom mount waste bin solutions – quick and easy to install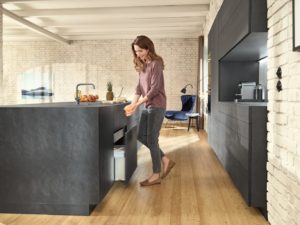 Open bottom and top mount waste bin solutions with ease thanks to the SERVO-DRIVE uno. Simply touch the front with your hip, knee or toe to open the waste bin pull-out. We will show you how to easily install the electrical opening support system. Simply find the right position, automatically set the depth and fit with just a few tools – that's it!
Install the pre-assembled individual set in no time at all. Also ideal for retrofitting.
Install the SERVO-DRIVE uno quickly and easily.
Fit the Blum distance bumper at half-height on the side of the cabinet
Pull the film from the T-shaped assembly device and position it on the back wall of the cabinet. Make sure the notch on the assembly device is in the middle of the cabinet
Slide the SERVO-DRIVE unit a short way onto the assembly device
Attach the pull-out and close it – the SERVO-DRIVE unit will be automatically pushed into the correct position
Screw the SERVO-DRIVE unit in place and remove the transport protection
Finally, connect the SERVO-DRIVE uno to the outlet
This video shows you how to easily carry out these 6 simple steps:
The installation instructions can be found here: LINK