When do I need two SERVO-DRIVE flex units and how can I synchronise these with each other?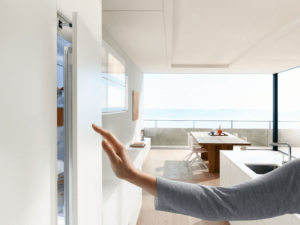 SERVO-DRIVE flex is Blum's electrical motion support system for refrigerators and freezers. SERVO-DRIVE flex therefore allows you to open even built-in refrigerators or freezers in a handle-less kitchen with no problem.
In most cases, you only need an individual drive unit to do so. However, should you want to fit a built-in freezer with a recess height of 1780 mm or greater with SERVO-DRIVE flex, you will require two units.
Due to the stronger magnetic lip seal in freezers with a recess height of 1780 mm, an additional unit needs to be installed under the freezer. In order to achieve the usual opening motion, it is essential that you synchronise both units with one another.
(Caution: should the freezer's cooling unit be installed below the unit, it will not be possible to synchronise)
How can I synchronise two SERVO-DRIVE flex drive units with one another?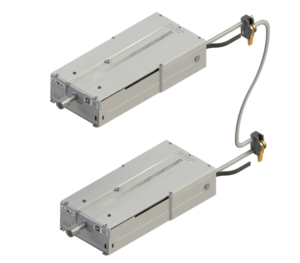 Step 1:
If you have previously commissioned any of the drive units, you must first reset the unit(s) in question. To do this, push the ejection rod in fully for three seconds until you feel a slight feedback movement on the rod.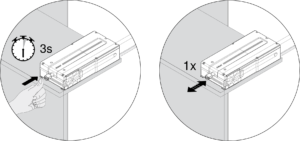 Step 2:
In order to synchronise both SERVO-DRIVE flex drive units, connect them to the light-grey synchronisation cable Z10K300A and two connecting nodes Z10V100. The connection points are two cable ends – one black (power connection) and one light grey (synchronisation) – which are located on the back of the SERVO-DRIVE flex units. Insert the light grey cable end of the unit and the light grey synchronisation cable Z10K300A into the connecting nodes and then close the orange lever. The synchronisation cable and the connecting nodes must be ordered separately.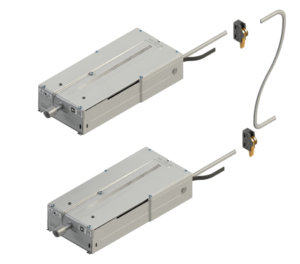 Step 3:
The next step is to connect the two SERVO-DRIVE flex drive units with the Blum transformer. Now close the freezer door. In order to operate two drive units, you will need the 24 W Blum transformer Z10NE030x. The advantage of this is that you can also connect all other SERVO-DRIVE applications within a kitchen to this Blum transformer.
Step 4:
Now touch the refrigerator door to open it. This triggers a reference run and the units calibrate themselves automatically. During this process, the freezer opens and closes automatically five consecutive times. The reference run must not be interrupted. Should this occur, however, both units will need to be reset and the reference run repeated.
More information on the reference run: https://ea.blum.com/en/servo-drive-flex-reference-run/
Number of SERVO-DRIVE flex units