Which opening angle stops are suitable for use with AVENTOS HF and how are they installed?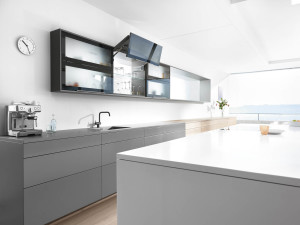 Have you ever experienced a situation where fronts with an AVENTOS HF lift system touch the ceiling when it is fully open? We offer opening angle stops for just such situations as the front or the ceiling may become damaged when the two touch. However, fronts can also collide with furniture structures above, such as cornices.
For applications in which an opening angle stop is required, we offer two different items. Opening angle stop 20F7051 (dark grey) to limit the opening angle to 104° and 20F7011 (dust grey) to limit the opening angle to 83°.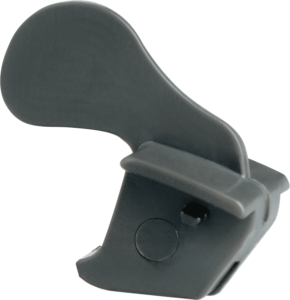 20F7051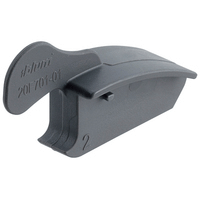 20F7011
You can work out if opening angle stops are required, and if so which, during the construction phase. You can use the following formula to help you with this: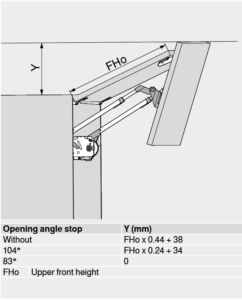 For example, for a front height top (FH) of 360 mm, you will not need an opening angle stop where the space requirement above (Y) is 210 mm. If the space requirement above (Y) is only 150 mm, you will need the 104° opening angle stop.
Note: with the opening angle stop 20F7011, the fronts no longer protrude beyond the cabinet, so the cabinet can be planned up to the ceiling.
How can I install the opening angle stop quickly and easily?
In principle, if you need to limit an opening angle, you should use an opening angle stop for each lift mechanism.
You do not need to disassemble the fronts for this, but removing the cover caps does make assembly easier. Close the fronts by approx. 45° and press the opening angle stop into the now-free opening until it clicks into place.
Opening angle stop AVENTOS HF