Handle-less fronts with TIP-ON now also close silently and effortlessly in the way you are accustomed to – thanks to combination with BLUMOTION
Up u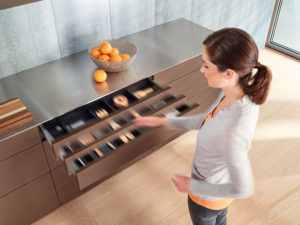 ntil recently, there were two opening support system options for handle-less fronts at Blum: mechanical with TIP-ON and electromechanical with SERVO-DRIVE. The electromechanical opening support system has always worked in combination with BLUMOTION dampening, but now we have combined the TIP-ON function with BLUMOTION dampening too.
A simple touch on the front is, as you are used to with TIP-ON, all that is needed to activate TIP-ON BLUMOTION. The BLUMOTION now activates when closing the drawer or the pull-out, ensuring a silent and effortless closing action. For the BLUMOTION function to achieve optimum functioning, the pull-outs should be loaded. The BLUMOTION does work when these are unloaded as well, but more energy (force) is required for closure.  The settings have been designed for the weight of a loaded pull-out, as is usually the case in actual living areas. 
TIP-ON BLUMOTION can be used with LEGRABOX, TANDEMBOX and MOVENTO. Assembly is simple and tool-free. No other processing steps are necessary for the cabinet, front and drawer box. With a minimum front gap of just 2.5 millimetres, TIP-ON BLUMOTION is ideal for use in kitchens, but can also be used in all other living areas. Should the pull-out or drawer ever be pulled open or pushed closed manually, TIP-ON BLUMOTION will still remain fully functional at all times.
TIP-ON BLUMOTION: mechanical opening support