TANDEM TIP-ON: What is depth adjustment for and when do we use it?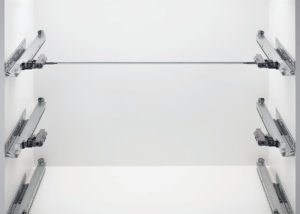 Different materials are used in the manufacturing of wooden drawers, which is why each wooden drawer is individual and has slightly different lengths, widths and heights. To counteract these "production tolerances", we have developed depth adjustment for our TANDEM runner system in connection with our TIP-ON motion technology.
This helps to ensure an optimal connection between the wooden drawer and TANDEM locking device.
To connect the TANDEM profile with the wooden drawer, there are locking positions on the TANDEM locking device to ensure the necessary grip when opening and closing. The depth adjustment ensures the runner locks securely in place (third tooth of the locking device).
The depth adjustment is made of a soft rubber material and is adaptable, which ensures that the drawer is positioned correctly on the TANDEM runner. The entire depth adjustment is fastened, tool-free, to the hook located at the end of the runner.