Welcome to our EASY ASSEMBLY blog!
On this blog you will find recent news and tips about product assembly topics and our EASY ASSEMBLY app. Please feel free to ask questions and discuss with us.
How to correctly and easily install Blum fittings in cabinets?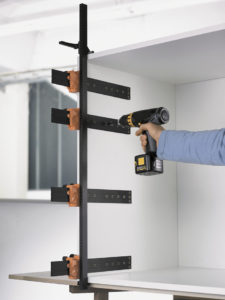 Blum's universal drilling template makes it easy to pre-drill holes for fixing cabinet profiles, lift mechanisms, mounting and adapter plates. You can use the template with assembled and unassembled cabinets. Overlay and inset applications can be easily implemented. The calibration makes it simple to adjust the height and depth drilling position. The template allows you to drill holes of 5 mm or 2.5 mm in diameter. It is suitable for system and/or chipboard screws.