Welcome to our EASY ASSEMBLY blog!
On this blog you will find recent news and tips about product assembly topics and our EASY ASSEMBLY app. Please feel free to ask questions and discuss with us.
SPACE STEP: All you need to know about planning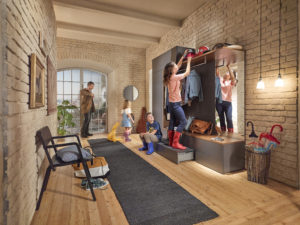 Create functional furniture right up to the ceiling with SPACE STEP.
The plinth solution is perfect for furniture throughout the home. It creates additional storage space behind the toe kick of cabinets, allows small users to reach worktops and provides easy access to tall units and wall cabinets.
Here are a few tips on how to plan and manufacture SPACE STEP.
Building a drawer with the correct dimensions for MOVENTO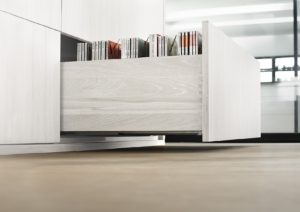 MOVENTO, the concealed runner system for wooden drawers, provides maximum ease of use and a wide variety of practical, intuitive adjustment options.
In order to guarantee high quality of motion and the durability of the runner system, it is important to take into account the following key information when manufacturing the drawer.
How to organise TANDEMBOX antaro drawers in just a few steps?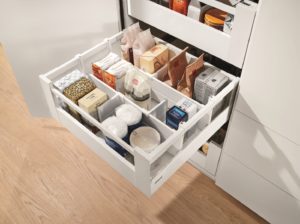 ORGA-LINE is an adjustable inner dividing system that tidies up interiors. No matter what the contents, ORGA-LINE delivers organisation to drawers. The system can be adapted at any time to accommodate more items, such as pots or dinnerware. Contents are beautifully organised, easy to find and readily accessible. Organise your drawers in just a few steps.
How to carry out tilt adjustment with MOVENTO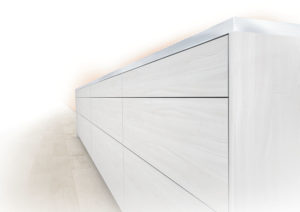 The front is not parallel to the front edge of the cabinet. Sounds familiar? The MOVENTO runner system makes it easy to carry out tilt adjustment. This blog entry tells you how.
SERVO-DRIVE uno for bottom mount waste bin solutions – quick and easy to install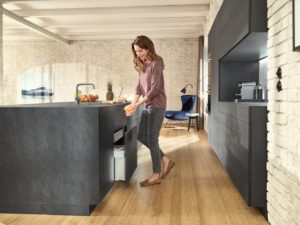 Open bottom and top mount waste bin solutions with ease thanks to the SERVO-DRIVE uno. Simply touch the front with your hip, knee or toe to open the waste bin pull-out. We will show you how to easily install the electrical opening support system. Simply find the right position, automatically set the depth and fit with just a few tools – that's it!
How to correctly and quickly pre-drill fixing holes for LEGRABOX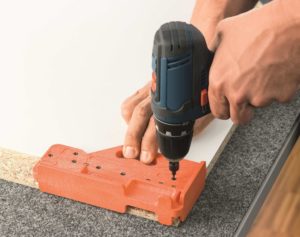 Using a metre rule and pencil to mark drilling positions can be a cumbersome and error-prone process. That's why we offer a simple and practical drilling template for the back and base of LEGRABOX drawers. The template is good for several assembly steps.
How to best clean Blum Fittings?
Here are a few tips to ensure that your fittings work perfectly a furniture lifetime.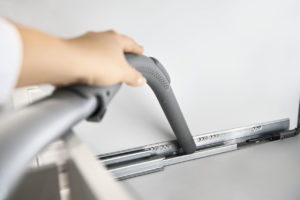 First of all, try to prevent dirt from getting into the cabinet profile when mounting it. If wood chips do get into the system, remove them with a vacuum cleaner.
How to correctly and easily install Blum fittings in cabinets?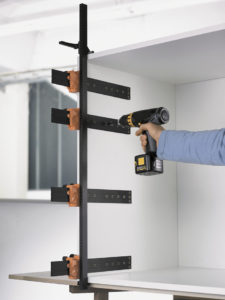 Blum's universal drilling template makes it easy to pre-drill holes for fixing cabinet profiles, lift mechanisms, mounting and adapter plates. You can use the template with assembled and unassembled cabinets. Overlay and inset applications can be easily implemented. The calibration makes it simple to adjust the height and depth drilling position. The template allows you to drill holes of 5 mm or 2.5 mm in diameter. It is suitable for system and/or chipboard screws.
How do I install TIP-ON correctly with a SPACE TOWER?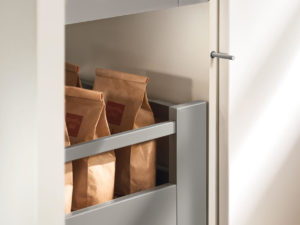 Have you ever incorporated handle-less doors into your design? With TIP-ON, the mechanical opening support system, handle-less doors open by themselves – a brief touch is all that is required. This means that even large doors, such as those for the SPACE TOWER, can be opened without a handle. We would like to take this opportunity to explain what you need to pay attention to in the assembly and adjustment of this unit.