Welcome to our EASY ASSEMBLY blog!
On this blog you will find recent news and tips about product assembly topics and our EASY ASSEMBLY app. Please feel free to ask questions and discuss with us.
SERVO-DRIVE uno for bottom mount waste bin solutions – quick an easy to install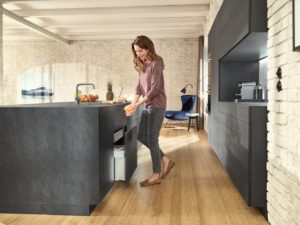 Open bottom and top mount waste bin solutions with ease thanks to the SERVO-DRIVE uno. Simply touch the front with your hip, knee or toe to open the waste bin pull-out. We will show you how to easily install the electrical opening support system. Simply find the right position, automatically set the depth and fit with just a few tools – that's it!