How does the MOVENTO side adjustment function?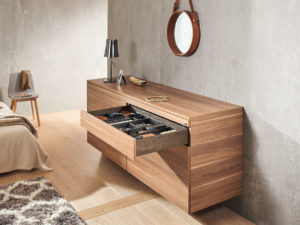 Have you ever tried to carry out a side adjustment for a wooden drawer in the living room, only to find that the front is crooked afterwards? We would like to explain how you can correct this.
Whilst, with TANDEM, we carry out the side adjustment via the front adjustment bracket, with MOVENTO the side adjustment is integrated into the coupling. The proven locking device feature is no longer only used to adjust the height and to connect the runner and the wooden drawer – it can now also be used to easily and conveniently adjust the sides.
As you can see in the video, our orange coupling has a side adjustment, which is a light grey wheel. Turn this to the left or right to move the front in the appropriate direction. It's important that you adjust both sides when doing this. You might now find that the wooden draw protrudes on the opposite side (not straight in the cabinet, see illustration).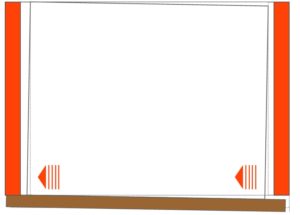 In this instance, there is another option for ensuring the wooden draw is installed perfectly with the MOVENTO runner. Behind the right runner, you will find another wheel that you can use to correct the angle of the crooked wooden drawer – it should now sit perfectly in the cabinet again.
How does the MOVENTO side adjustment function?