How to organise bottles in a drawer?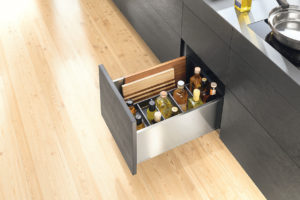 AMBIA-LINE offers a universally applicable frame concept for inner division. This Blum system can be used not only in kitchens, but also in all other living areas.
It is particularly useful in kitchens to store bottles in a drawer. Standard drawer frames in steel design are available with widths of 100 and 200 mm and for nominal lengths 450 to 650 mm. Please find installation information on how to assemble AMBIA-LINE frames as bottle dividers below.